Some Of Our Hand Painted Architectural Elements In Place
Hand Painted Columns
Hand painted faux marble finish on a large variety of columns, we sell these columns from 6 inches up to 24 inches diameter, and from 6 feet hight up to 24 feet. We also have over 10 different capitals design, and several bases, hand finished with a combination of beautiful metallic colors.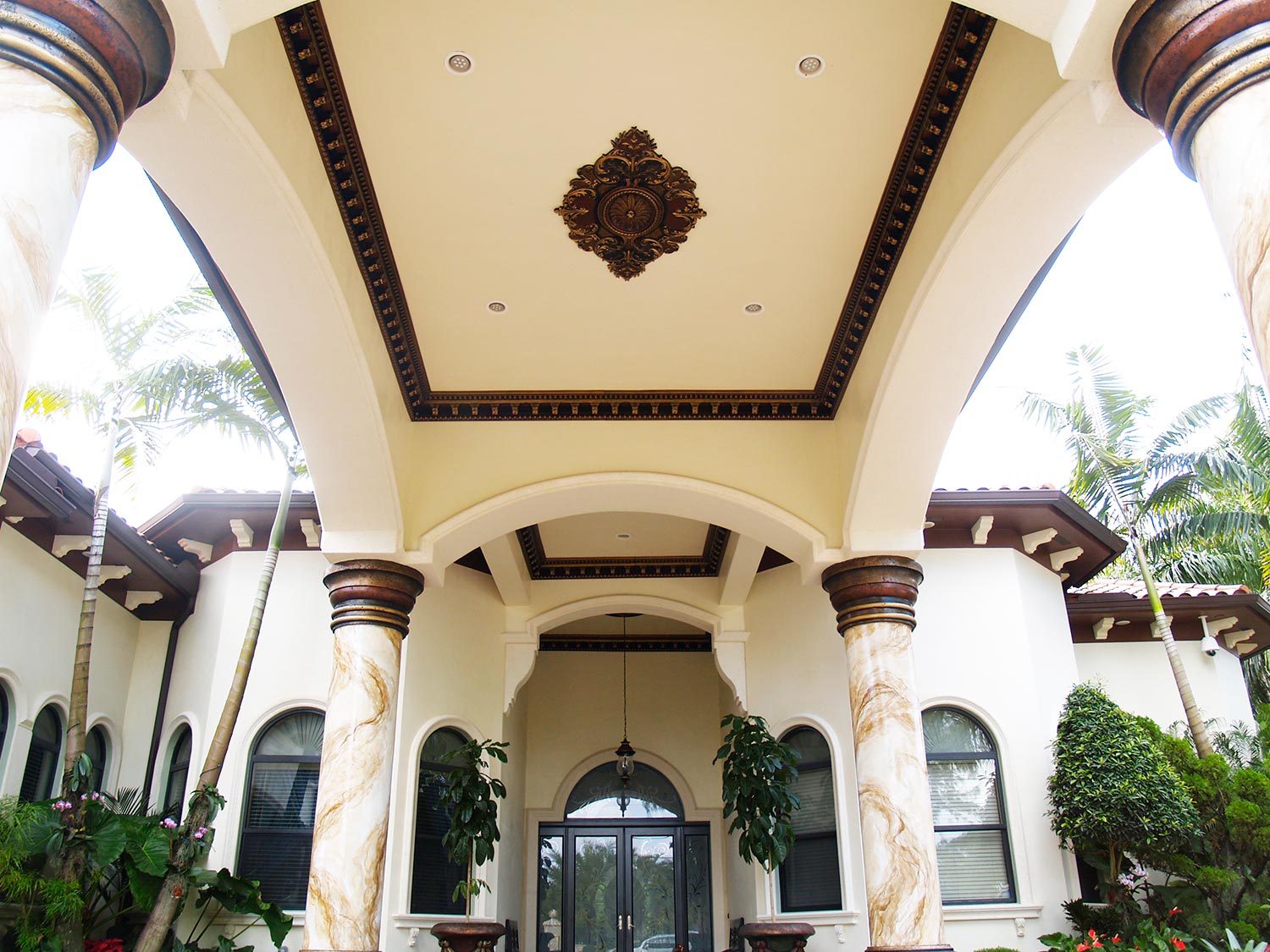 Hand Painted Crown Moldings
Our hand painted crown moldings collection are one of the products that more identifies our unique style and colors.
Hand Painted Ceiling Medallions
We provide the larger collection of hand painted ceiling medallions online, using over 50 different metallic colors in our palette, our finish combination results in non-comparison pieces of art.
Book An Appointment
Are you a local customer and need professional help? Just book an appointment with us and we will be glad to assist you in your decorating project.
This service is available for the following south Florida counties: Broward, Collier, Hendry, Lee, Miami-Dade, Monroe, Palm Beach. Other counties or states, please call us at 877-268-7770.
BOOK NOW!
Order Samples Of Our Finishes
We highly recommend future customers to purchase samples of our finishes before placing any major order or if ordering non-returnable products, like crown moldings for example. In the case of hand painted Ceiling Tiles, purchasing a single tile before placing your order as suggested above.
ORDER FINISH SAMPLE NOW!
News!
Fine Art Deco is currently working on a remodeling project for the Award-Winning Spa at Boca Raton Resort and Club, a Waldorf Astoria Hotel. View more…
Testimonials
"Yes I highly recommend this beautiful company, the quality of the products are High End. Fantastic creativity, great projects to get them involved in, every architect & designer should consult with them first!"
"I had more compliments on the painted crown moldings than you can imagine – even contractors who have been at my house have never seen anything like it before. Very Well Done!!! Highly recommended."
"The name implies one of the most unique and original art and architectural styles of modern history a style that is undergoing a Renaissance today."
"Very Unique and creative work."